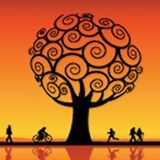 Nature-Health Fair at the GR – Ljubljana Exhibition and Convention Centre was connecting nature with health and through its slogan 'Let's lead a vital life!' informed its visitors of a healthy lifestyle.
The emphasis of fair is on local self supply, sustainable gardening, organic food trends, a holistic treatment of water as a natural source, and the use of hemp and medicinal herbs.
The event, focused on a healthy lifestyle, aimed at meeting every visitor's needs and interests.  There were 257 exhibitors  – companies from 17 countries. Visitors were offered the possibility of direct contacts with producers and service suppliers through tastings, presentations, measurements, consultations etc. in exhibition spaces.
The honorary sponsors of were the Ministry of Agriculture and Environment and Ministry of Health of the Republic of Slovenia. The Slovene Consumers' Association, cooperating as a partner, informed visitors about certificates: what they truly guarantee, who issued them and who supervises the products' identity.

The accompanying programme was a true counselling marathon going on in  exhibition spaces, on stages and in lecture rooms: over 100 various workshops, lectures, tastings, presentations for all generations, also for children and teenagers; therefore we recommend the visit to organized groups, families and elderly visitors.
In four days, 24.000 people visited the fair, which is over 10 % more than last year. Some figures referring to visitors' feedback: 34 % are interested in all topics presented at the fair. Among the topics, Healthy food is the most popular (with 46.5 %). Visitors were very happy with the versatility of offered goods and services as well as with the exciting accompanying program; only 2% don't intend to come back next year.
Our experience as the organizer shows that we are heading in the right direction since the number of visitors is increasing each year. The Nature-Health is becoming one of the trendiest and therefore the most popular fairs organized by the GR – Ljubljana Exhibition and Convention Centre.