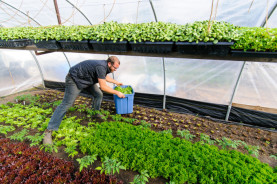 Two surprising things happened to Curtis Stone the year he decided to start Green City Acres, in Kelowna, British Columbia. First, he became a town celebrity and, second, he made a good living doing it.

In The Urban Farmer, Growing Food for Profit on Leased and Borrowed Land, Stone lays out his methodology for building a successful farm on a quarter acre of land. He strictly follows high-density, bio-intensive methods to create a compact landscape of specialty crops grown for market.

Urban farming is by no means a new concept and the intensive growing methods that Stone presents in Urban Farmer have already been well-documented by farmers such as Eliot Coleman and Jean-Martin Fortier. But the value that Urban Farmer brings to conversation lies in Stone's upfront discussion of both community relations and financial viability.
Read full article: Urban Farmers Can Earn $75,000 on 15,000 Square Feet | Civil Eats