Kellie Duran, one of organic cosmetic manufacturers, has been cooking up something cool in her kitchen. The Summerlin resident is the inventor of Kiss My Honey lip balm, the latest organic product to come out of the "necessity is the mother of invention" mantra.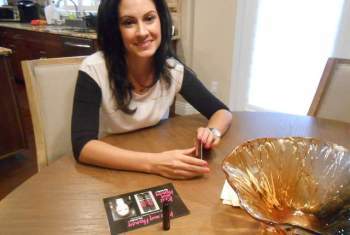 "I have about 50 different lip balms throughout my house — lip gloss, lip balm, lipstick — and I was always on to the next one," Duran said. "So, I was always spending the money for more lip gloss. I felt like some, I had to keep applying it."
She researched major brands' ingredients and didn't like what she found. Worse, her 3-year-old son, Robbie, would reach for it, too.
So this spring, Duran set out to make her own. She used ingredients people trusted, "not with all these long names that you have to Google to find out what it is."
Organic Cosmetic brand: Kiss My Honey
Within three months, she set up her website, kissmyhoney.com, started social media sites, researched the process for getting organic certification and signed with a distributor to replicate her formula. She hopes to mass-produce it.
Kiss My Honey has more than 1,600 Facebook "likes" and 800-plus followers on Instagram. That social media exposure brought Duran to get the attention of organizers of the recent Primetime Emmy Awards, who emailed her an invitation.
"I was like, 'Is this real?' I thought it was spam for a minute," she said.
Duran went to Los Angeles for the event, and Kiss My Honey was included in the swag bags given to celebrities. She handed out 150 samples and has been invited to the American Music Awards in November.
Amy Vigil-Pecherski has known Duran since they attended Captial High School in Santa Fe, N.M., together. She called her outgoing, optimistic and determined.
"When Kellie latches on to a notion or idea, she is relentless in seeing it through," Vigil-Pecherski said. "… I always looked at Kellie as someone who wanted independence from employers and would someday be her own boss. … It doesn't surprise me at all that Kellie finally invented something of her own. It was just a matter of time."
Vigil-Pecherski said that Kiss My Honey isn't gender- or age-specific, "rather more of a solution to something that has been missing in the marketplace. … The chic and fashionable packaging is more of an appeal to me than your basic granola packaging."
"I feel like you can't turn down opportunities like this," Duran said. "There are fees involved for me (to offer it in swag bags), but this is once-in-a-lifetime stuff."
Duran's original formula is all-natural and paraben- and chemical-free and instead of petroleum has an organic oil base. She said her ingredients will qualify it as "organic" by the USDA.
Duran used her double boiler and a cook's temperature gauge to whip up her formula on her kitchen stovetop. She pours the heated product into tubes with swivel up bases and caps them once cooled.
There are two flavors — mint and chocolate. Plans are to offer coconut and berry in the future.
The next step is approaching boutique stores and spas, then organic retailers such as Trader Joe's, Sprouts Farmers Market and Whole Foods Market and then cosmetics retailers such as Sephora and Ulta.